From remote coastal landing locations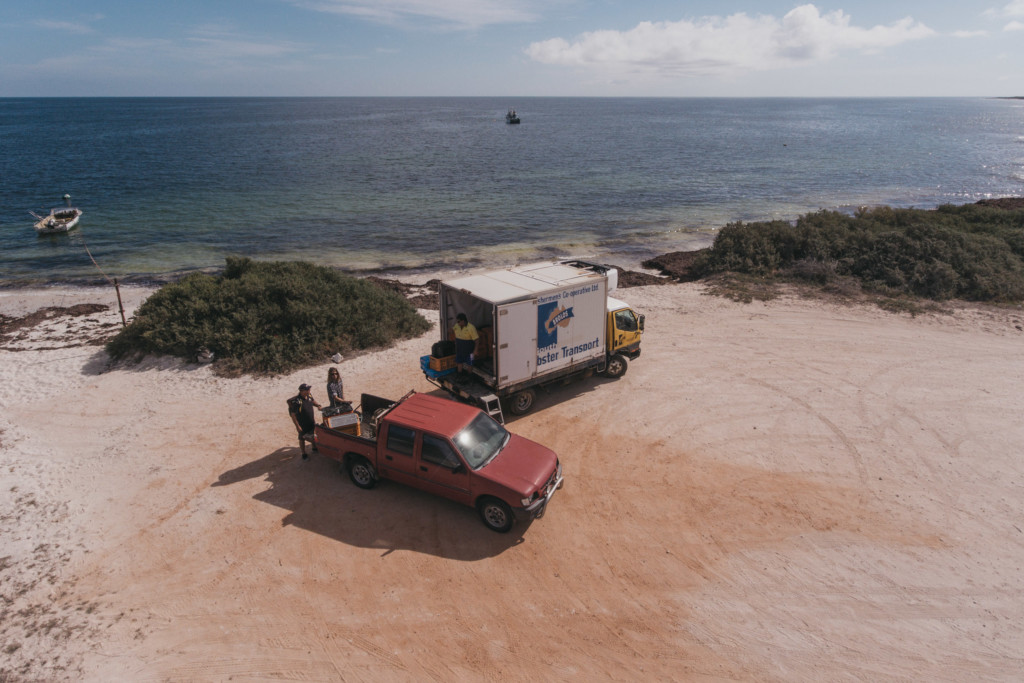 Each day, GFC services our fishermen at over 50 designated landing sites stretching along more than 1,000 km of the WA coastline. To make this possible, GFC has a number of coastal facilities from Mandurah in the south to Kalbarri in the north. These coastal facilities range from small depots designed to hold freshly landed catches for short periods, through to the 70 tonne receival and live holding facility in GFC's home port of Geraldton.
All coastal facilities have live holding tanks supplied with seawater direct from the Indian Ocean, keeping the day's catches in premium condition prior to collection or export.
Onto an optimised logistical network
The network of sites is serviced by GFC's fleet of highly specialised live transport trucks. Each truck is fitted with a custom built temperature controlled recirculating seawater system that keeps the lobsters in optimum condition during transport. The live truck holding systems were developed in-house and represent the culmination of years of research and development by GFC. All trucks are fitted with track and trace transponders that not only allow continuous monitoring of the location and speed and direction of travel of each vehicle, but also of the conditions the lobsters are experiencing in the live holding compartment.
This onboard tracking system also allows the efficient scheduling of staff and operations to ensure streamlined operations.
Before staging in the world's largest purpose built rock lobster storage facility
Our brand new Welshpool Live Lobster Export Facility is the latest addition to the Co-op's strategic network. Covering more than 4000m2, this purpose designed and built facility is the world's largest rock lobster export facility. 80 tonnes of live lobster will be held in a climate controlled, computer monitored aquaculture system, in more than 1,200 tonnes of refrigerated seawater.
GFC has moved decisively to take advantage of opportunities in China, following the ratification of the China Australia Free Trade Agreement (ChAFTA) in December 2015. This new facility completes a modern and efficient chain of logistics from catch through to consumer. Situated just 4km from Perth International Airport, Welshpool will become the launch pad for direct entry into the China B2B and B2C markets.
The Official Opening of the Welshpool Live Lobster Export Facility is the culmination of 67 years of growth and development, and represents a milestone for our company, our fishery and for the Australian seafood export industry.
With a total live lobster holding capacity of 220 tonne, GFC can ensure supply of Brolos brand lobsters throughout the year
Sustainability
Stewarding the sustainability and conservation of the Western Rock Lobster species.
Sustainability